The Jeep in the lead photo belongs to my friend Joe and I've actually only made a few parts for it but I liked the picture. On this page you can take a  look at all the neat 4×4 stuff we've made. Or visit the action page to see rigs we've built and others wheelin'.
We do parts for vehicles as well as complete builds. In the following photos we modified the frame from a Suburban to fit a pickup, and used a 383 from a Z-28 Camaro to make the black Chevy truck.
If unpowered rigs are what you are into we can do that too. If they ever make a show called "Pimp my Radio Flyer" we will be sure to be stars. And with the the plethora of reality shows it wouldn't suprise me if they do.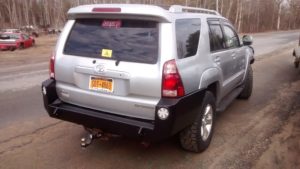 Need a seriously strong bumper on your ride? Yeah, we can do that, too!